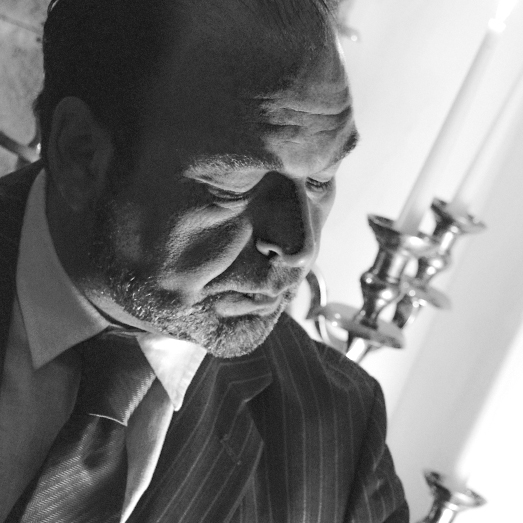 Rafael Cortés
Wer an einem 21. Dezember zur Welt kommt, wird entweder Musiker oder Bandit, so ein spanisches Sprichwort. Rafael Cortés, am 21. Dezember 1973 in Granada geboren, hat sich für Ersteres entschieden. Seine Fans verehren den in Essen lebenden Gitarristen als einen der größten Hoffnungsträger der internationalen Flamenco-Szene. Nebst seiner Zusammenarbeit mit Stars wie Paco de Lucia oder Al Di Meola wird Rafael Cortés auch immer wieder von den Fantastishen Vier auf die Bühne gebeten. Denn niemand verkörpert das andalusische Lebensgefühl in deutschen Breiten so authentisch, virtuos und warmherzig wie Rafael Cortés, der sein neues Album Cagiñí vorstellt. Cortés ist sowohl Essener wie auch Andalusier durch und durch. Dafür verantwortlich ist eine Vita, wie sie typisch ist für Migrantenkinder der Sechzigerjahre. Während der Franco-Zeit kamen Opa und Oma nach Deutschland, wo sich denn auch seine Eltern kennen und lieben lernten. "Mein Vater stammt aus einem Gitano-Klan in Granada, meine Mutter aus Nordspanien. Das ging natürlich gar nicht, von jeder Seite haben Oma und Opa zuerst mal Vorurteile und Drohungen ausgestoßen." Doch die zerstreuten sich wie so oft bald in alle Winde, und die Liebe siegte. Zum Glück für unsere Geschichte, denn so kann Rafael geboren werden. Dessen Talente schon als kleiner Junge bei den häufigen Besuchen in Granada von den Verwandten erkannt werden: "Alle möglichen Gitarristen kamen zu mir, zeigten mir irgendwelche Sachen und sagten, das solle ich üben." In Granada sitzt Rafael an der Quelle, wird dort doch ein Flamenco gepflegt, der sich durch orale Tradition noch in einer sehr puren Form erhalten hat. Doch bald entdeckt er auch die Spielart eines Paco De Lucia, der zu jener Zeit gerade durch sein Teamwork mit John Mclaughlin und Al Di Meola auffällt: "Da dachte ich mir: Guck mal, das geht ja auch so, mit ganz anderen Akkorden und Skalen. Seitdem bin ich ein Neugieriger geblieben." Cortés bestreitet, ausgeprägte Vorbilder für sein Spiel zu haben. Er versucht von allen zu lernen, etwa von seinem Kollegen El Macareno, bei dem er ein paar Jahre intensiven Unterricht hatte. Färbungen aus Klassik, Latin und Jazz integriert er in seinen individuellen Flamenco. Und schon mit 14 entlässt ihn einer seiner Lehrer mit der Begründung, er könne ihm wirklich nichts mehr beibringen. Seine Karriere entwickelt sich rasant. 1985 tritt er erstmals öffentlich auf, in der Zeche Carl, wie es sich für einen zünftigen Ruhrpottler gehört. Fünf Jahre später ist er erstmals an Studioaufnahmen beteiligt, komponiert bald auch Filmmusik ("Der Strand von Trouville"). 1999 schließlich entsteht seine erste Solo-CD "Eclipse De Luna". Eine ganze weitere Serie von Alben schließt sich an, etwa die von vielen Gästen wie Javier Baron und El Cigala bereicherte Scheibe "Gitanos del Agua", die in Madrid entsteht, ein Flamencopop-Hit mit Spaniens Megastar Rosa folgt. Daneben immer wieder Teamworks mit Größen wie Domingo Patricio, Carles Benavent oder Maria Serrano. 2007 dann die Erfüllung eines Traumes: Rafael steht mit Paco De Lucia auf der Bühne, beim Leverkusener Jazzfestival. Gefeiert wird er ohnehin schon in ganz Europa mit stehenden Ovationen, von Larry Coryell ist überliefert, er habe ihm kniend die Hände geküsst.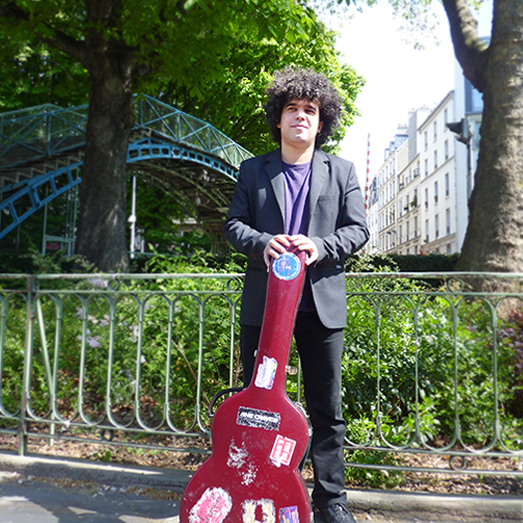 Judicaël Perroy
Judicaël Perroy has become widely known as an extraordinary virtuoso classical guitarist and musician with several prizes from prominent international competitions to his credit. In 1997 he captured the prestigious first prize of the 15th Guitar Foundation of America International Competition and Convention awarding him tour of the United States and Canada with more than sixty concerts and masterclasses. In between his North American tour that year, he gave several concerts in France where his performances were broadcast live on France-Musique followed by extensive recital tours throughout the world.
Highly sought after and in great demand as a teacher, he has been invited to give master classes at many of the top conservatories and universities in the United States and abroad. In addition, Perroy's students have won several top prizes in regional, national and international competitions including Guitar Foundation of America, while emerging as mature and upcoming rising stars of classical guitar and international music scene. Mr. Perroy is currently the Professor at the Ecole Nationale de Musique d'Aulnay-sous-Bois a position which he has held since 2004 and has been appointed to a teaching position at the École Supérieure de Musique et de Danse of Nord de France starting in September 2011 and at the Pole Supérieur 93 since 2012.
He holds the Certificate of Aptitude (CA), and has taught at the Ecole Nationale de Musique du Blanc-Mesnil from 1995 to 2004. Furthermore, in winter of 2000, he was the chosen substitute for the chair of guitar department, Steven Robinson, at Stetson University.
During his GFA victory tour Mel Bay Publications recorded and published his live concert in Lubbock (Texas). Following his GFA victory tour,a CD recording entitled Aspen Suite as well as his earlier CD recording on the French label Quantum received high praise and won 5 Diapasons, awarded by Diapason Magazine and was subsequently re-released on Bayard Musique recording label in 2008. He has recorded two new CDs for the collection of Bayard Musique Meditation including a Disc with flutist Florence Bellon and another with harpist Joanna Kozielska. More recently, he has recorded an all Bach CD for Naxos label which includes an impressive and unprecedented performance of Bach's second keyboard partita transcription on the classical guitar to be release digitally in summer of 2011 and in print by January 2012.
Born in 1973 in Paris, he began playing the guitar at age 7 attending the Conservatoire Municipal Inter-districts of Paris. He studied with Delia Estrada and Raymond Gratien at the Ecole Nationale d'Aulnay-sous-Bois where he graduated with honors. At age 11, he performed as soloist in two concertos by Vivaldi with Ensemble Instrumental du Mans, under the direction of André Girard and continued his musical studies with Roberto Aussel and Daniel Lavialle. At 14, he won second prize at the International guitar competition of Ile de France. In 1992, he won grand prize and the audience award at the 15th Concours René Bartoli by unanimous jury decision. In 1994, he received Licence de Concert from Ecole Normale de Musique in Paris from Alberto Ponces class and later that year he was awarded the 1st prize at the 7th International Competition of Bourg-Madame where the final vote was by the general public without any jury. In 1996, he was the first prize winner of his graduating class at the National Conservatory of Music and Dance in Paris (Paris Conservatoire).
He currently resides in Paris while he enjoys teaching and traveling around the world.
Judicael Perroy & Rafael Cortes Quintett
| | |
| --- | --- |
| Ort | Stadthalle Heinsberg, Apfelstraße 60, 52525 Heinsberg |
| Datum | Fridayday, 26 May 2017 |
| Uhrzeit | |
| Vorverkauf | |
| Abendkasse | |
Tickets erhalten Sie an allen Vorverkaufsstellen oder online unter folgendem Link: Ticket online kaufen

The external media source is not supported. Please provide a valid YouTube or Vimeo URL.
The external media source is not supported. Please provide a valid YouTube or Vimeo URL.